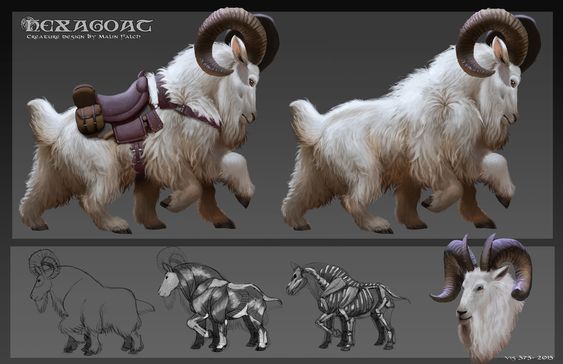 Big Horns
A popular means of travel, BigHorns are known for their endurance and strength. With its extra legs it has medium speed but has difficulty maintaining it. With its large muscles it can carry the most heavy of equipment, but with limited room it can carry very little.
Tamed: When tamed the BigHorns are often kept as a form of protection, often able to chase of predators and great to use as training partners.
Wild: Wild BigHorns are very territorial and will often give little warning when a stranger wonders into their territory. They often travel in large groups, but often there will few with fully grown horns in a group.
Location: BigHorns are often found near the south/west of Sector B near Lake Maxin.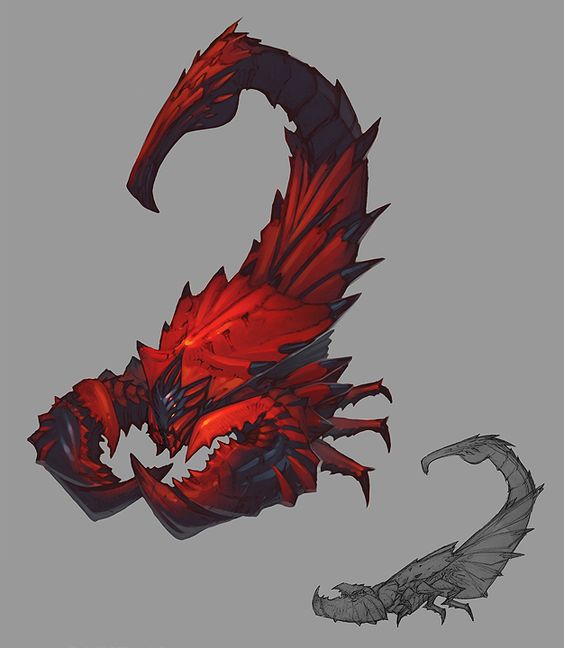 Emberas
Small little bug like creatures, normally around five inches long. Known for their hook like stingers. Their sting, though non-fatal is strong enough to melt flesh and deliver horrible burns.
Tamed: This little guys are very jealous creatures and rarely get along with other tamed pets of the same owner. They have been known to turn very aggressive around their own kind as well.
Wild: They do not live in groups and can often be found alone looking for other smaller bugs to eat.
Location: These guys can be found all around Sector B near the base of mountains and under rocks.
HellThorns
Standing between three and five feet tall these magical creatures are made up of rock and lava. Their cores can burn up to 1,500 degrees F. They are very quick on land and agile, and can make large jumps without taking any fall damage.  
Tamed: There has been no record of these being tamed.
Wild: Rarely seen, reports say they travel in large packs of five. They have been reported to not be aggressive despite their appearance, unless provoked.
Location: Sightings have been singled out to only around ThornHall Mountain. Mostly around the top of the Lava falls. Its believed there are more on the top of the mountain, but due to trarren these reports are not confirmed.
Huthadon
Huthadons are about five feet long and weigh around 500 pounds. They can grow up to about three feet tall and are known for their dense muscle and front paw strength. They come in light brown, dark brown and grey colors with darker stripes.
Tamed: They can be kept as guard dogs, but normally do not get alone well with Pathulas. Due to the Huthadons unpredictable nature, its recommended only one be kept.
Wild: They often do not travel in packs larger then three. They appear to be smart and often stalk their prey and determine the likely hood of success before they attack.
Location: Due to their bulky appearance they rarely travel up the mountains. They can be mostly found around train tracks and water, while looking for food. They will try to avoid towns , but can be spotted on popular walking trails.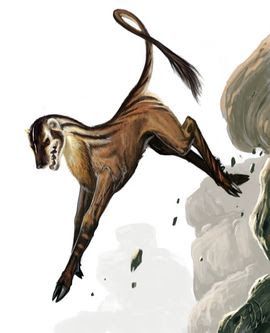 Pathula
Pathulas are commonly used as training partners and as pets in Sector B. Due to their speed and sense they are great for those wanting to increase their endurance and stamina. Because of their small, but aggressive disposition they are often kept at the bed side of many owners, as Pathulas are very protective.
Tamed: Many people raise Pathulas for their loyal and protective nature. Once a Pathula has imprinted on someone it sees as family it will fight off any threat regardless of danger.
Wild: In the wild Pathulas are very protective of their families and often travel in large family units of ten or twenty. They often let out a very sharp hiss fallowed by a chattering sound as a warning to those who they see as a threat.
Location: Found in dense mountain areas, they occasionally can be found near a water source as well.
ThroatTrasher
Growing up to seven feet tall when on its hind legs its one of the largest mammals in Sector B. Known for its hook like digits located on both of its front paws, the ThroatTrasher gets its name from its method of killing prey.
Tamed: Often relying on a group, these creatures can only be tamed if they do not already belong to a family unit. Most owners purchase a orphan or young ThroatTrasher, as the adult ones are impossible to tame.
Wild: Though they have been known to travel alone, ThroatTrashers are more commonly seen in family units of five or less. They attack using a ambush method, often tearing through the throats of their prey.
Location:Often found near Lake Maxin to find prey, they have also been spotted along the Southen and Western shorelines.


Similar topics
---
Permissions in this forum:
You
cannot
reply to topics in this forum